Users Online:
217

Sebastian Low - Attract Women Now (321.0 Kb eBook,
$25.40

FREE

)
eBook downloads:
711
To get new PUA materials to you mailbox every week please subscribe to our mailing list, using form below

Face it guys, times have changed. Women are striving to be more assertive and independent, and they are constantly changing their dating goals. Some women remain traditional, with the hopes of finding one guy to have a romantic relationship with. But many women are looking for a man to share a short, passionate affair. With this in mind, we have to follow and understand their changing style of courtship: signals, techniques, and even body language. We have to learn how to understand women so we will know what they are com... More >>>
Sebastian Low - "Attract Women Now" is electronically distributed. You can download it or order on DVD.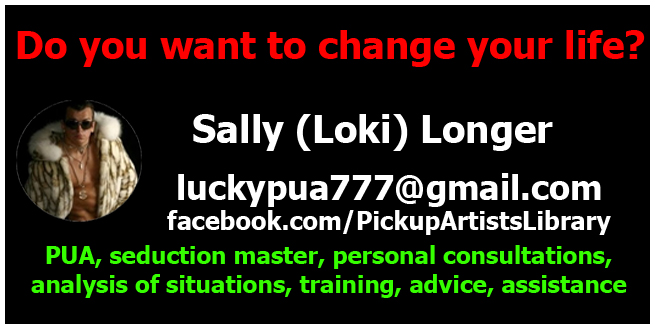 Face it guys, times have changed. Women are striving to be more assertive and independent, and they are constantly changing their dating goals. Some women remain traditional, with the hopes of finding one guy to have a romantic relationship with. But many women are looking for a man to share a short, passionate affair. With this in mind, we have to follow and understand their changing style of courtship: signals, techniques, and even body language. We have to learn how to understand women so we will know what they are communicating to us. If you want to succeed in meeting and dating new and exciting women, you must be able to interact, talk, and flirt with women on their level. This book is designed to help you learn this process by providing the knowledge, techniques and skills required for dating success. Whether you're looking for a long-term romance or a one-night stand, this book will guide you through and make meeting, dating and seducing women easier and more fun!



One thing every man must understand is that women think differently. Women say they want to be treated as equals. We've all seen the feminists in action, fighting for one thing or another trying to equate themselves to men. What they don't understand is that we could treat a woman equally - just like another guy - but it wouldn't satisfy her. Women still want to be romanced and treated with respect. Women say one thing, but expect another. They want to be paid equally, but they want men to pay for dinner. As men we know how rough dating actually is, and it seems no one is willing to make it easier for us. Until now! - Sebastian Low