Brad P - Club Game And Social Circle Visual Aid (copyrighted book, review only)
To get new PUA materials to you mailbox every week please subscribe to our mailing list, using form below

Hi, I'm Brad P. and I run The Underground Dating Seminar all across North America. Last year I spent 6 months creating a new system for meeting women in clubs. For the first 3 months I was out in clubs almost every night meeting people and picking up gorgeous women. Then I worked with some of my students to turn my new findings into an easy system that others can use to build a social circle and meet women in clubs. I've only given a handful of seminars on the topic, and the system has been one of my best kept secrets for a ... More >>>
Brad P - "Club Game And Social Circle Visual Aid" is copyrighted and can't be downloaded or ordered on DVD, you can try to find it at amazon.com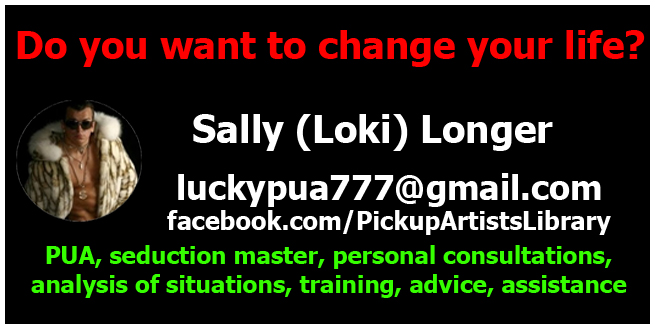 Publisher: PUA Media Library
Category:
Play Games
Author:
Brad P
Format: eBook
Delivery: Download
Hi, I'm Brad P. and I run The Underground Dating Seminar all across North America. Last year I spent 6 months creating a new system for meeting women in clubs. For the first 3 months I was out in clubs almost every night meeting people and picking up gorgeous women. Then I worked with some of my students to turn my new findings into an easy system that others can use to build a social circle and meet women in clubs. I've only given a handful of seminars on the topic, and the system has been one of my best kept secrets for a while. In all 4 cities where this seminar was given (LA, NY, Dallas, and Ft. Lauderdale) the response from students was ecstatic. So now I've decided to release this information to the public. The 2 CDs you've received contain a live recording of my Club Game/Social Circle seminar

from Los Angeles from Sept. 2006.

In this document I'm going to give you visual aids and background information so you can get the most out of the recording.

This system is recommended for intermediate to advanced students. If you are still learning the basics of meeting women, please check out some of my beginner level CDs and eBooks, such as The Complete System and The Instant Attraction eBook. You can find these at my website, www.createattraction.com. On that site you can also find information on my live in-field trainings.

Thanks for checking out my system. I wish you the best in all of your endeavors. Brad P.

About Author:

Brad P AKA The Pheromone Kid
Real Name: Brad P
Affiliation: Brad P, 30/30 Club
Website: http://www.bradp.com/

The legendary Brad P. began his journey to mastery in 2004 by spending 7 days a week every week going out meeting women and learning from the greatest Naturals ever to walk the earth. Already being an expert in psychology and philosophy, he quickly developed a reliable, repeatable method for meeting, attracting, seducing, and dating top tier women anywhere his travels took him.

Brad P. is the creator and visionary of the Underground Dating Seminar and the 30/30 Club. Brad's teaching style comes from 5 years of being a social worker and 3 years of being a basketball coach. He has traveled all over the USA and Canada dating the most beautiful women imaginable. After learning the game from some of the greatest naturals in the world, Brad developed the UDS curriculum in 2005 and has been helping men all over the world improve their love-lives.
By 2005, word of Brad's success had spread so quickly that he began teaching underground dating seminars in New York City. The news spread fast and men would travel from hundreds of miles away to attend.

In 2006, Brad was discovered by our community and gave lectures and interviews for various well-known pickup & seduction community legends.
Brad is currently focusing his attention to developing the most efficient and effective methods for teaching men to succeed with women.
Brad offers a range of services, products, and coaching through his venture, Brad P Presents.

Brad P. Attraction & Seduction Student Reviews

Only Turn to Brad P to Learn How to Attract Women

"If you're serious about learning how to attract women, I highly recommend that you look up Brad P. - I've gotten nothing but GREAT feedback about the interview I did with him, and I think he's one of the few real, solid guys teaching this kind of material."

David DeAngelo
DoubleYourDating.com

Brad is the BEST TEACHER of Seduction

"Brad P is amazing. He is a master at rapport and at connecting with women. More importantly, he is able to convey those skills to others. He has methods that work and that are tailorable to anyone's unique personality." - David Shade (MasterfulLover.com)

Brad Runs Circles Around Other Gurus "There's NOTHING he isn't good at when it comes to game." - Sinn (SinnsOfAttraction.com)

Incredibly Innovative Material "Brad is an incredible innovator." - Thundercat (ThundercatsSeductionLair.com)

Number One Pickup Artist in the World

THE BEST Dating Coach Around "Brad P is one of the best dating coaches around, a true original. " - ApproachAnxiety.com

Students Have Amazing Results "His students are among the best I've seen. " - Savoy (LoveSystems)

The Most Original and Successful Teaching Style "Brad P is one of the best dating coaches around, a true original. " Eric (ApproachAnxiety.com)

After Just a Few Seconds... I Knew He Was an Absolute MASTER

"A friend of mine kept raving about Brad P's stuff, and I was a little reluctant to listen to it because most stuff is garbage. Within SECONDS of hearing him, I knew right off the bat that this guy is an absolute master. There are maybe five people in the community who are actually what they claim to be and Brad P is definitely one of them. I think you would be doing a big disservice to yourself if you didn't use him as a resource to get your game to where it deserves to be." - Geoff Real Social Dynamics

The Fashion Bible BLOWS MY MIND

"It's called "Brad's Fashion Bible", but it could be called, "Brad's Guide to Being a Man and Taking What You Want Out of Life". He breaks down why most men dress in a way that holds them back. Bad feedback from well-meaning family, learning conformity for fear of being teased in grammar school, using "I dress like me" as an excuse to wear poorly fitting junk from a boring store in the mall. The thing that blows my mind is that two years ago, I personally had no fashion sense. The fashion industry was a jumbled mess that took me hours and days of my life and thousands of dollars before I figured it out - and that was only with the lucky help of a girlfriend who was a fashion editor. I know how hard it can be to figure this stuff out as your average straight guy. And that's the beauty of it - Brad lays it out so clearly, with detailed pictures and step by step guidelines, in a way designed to empower the reader. He goes through the barriers men have to not just dressing well, but succeeding in general. The most important thing Brad does in the book is convinces you to stop hating "the elite", and instead become part of "the elite" - and then he explains exactly how! The book's amazing. Frankly, I consider myself a damn good dresser. Top 5% of society. After reading Brad's book, I pushed it further using his idea of sexy stereotyping by changing up my hair with highlights and a white denim jacket. I was used a "hair model" for free a couple blocks from where I live, and picked up the $350 designer jacket for $90 at a sample sale. After reading Brad's book, I'm inspired, empowered, and educated - and sexier! I can't recommend it highly enough. This is the best book I've read in 2007 for getting your social life handled, and I read a hell of a lot of books. I wish I'd read it years ago, and even now that I'm doing well, Brad's Fashion Bible helped elevate me even higher. Just.... completely amazing stuff. " - Sebastian Drake (theApproach.com)

No BS, Brad is the Real Deal...

"All in all, it was money well spent and Brad P is legitimately the real deal. He can pull off anything he teaches, but will not pull and sacrifice the quality of his teaching for anything, even to get laid. I highly recommend working with him if you want to improve your game. " - Richie Rich

I Lost my Virginity Using Brad's Opener

"Great news, Brad! Got my first lay directly related to learning from you. Great chick. Met her at B&N at Union Square. I believe Hyper was with me. She drove down from Pittsburgh and spent the weekend with me. I opened her simply by telling how unbelievably cute she was. More details to follow when I get time. BE sure to tell Glenn. " - Chuck

Brad's Material is WORTH ANY PRICE

"First of all, I will say this much: Brad P is worth every cent (and more) than he charges for his services. He's more than willing and able to put himself out there in the field, in front of his students. To see him use the very same routines and techniques that he teaches is a real treat, and an inspiration. He's also willing to change things around, adapting his teaching strategy to what he feels would best fit your individual needs. Thanks Brad, you've made a friend for life." - Angel Face

Brad's Dancing Material and Sexy Talk Work Miracles

"Since learning from Brad, I have used the dancing stuff a great deal; I have incorporated a lot more sexual talk, which was a big sticking point for me; and I have done a somewhat better job of establishing my identity. I have been using takeaways a lot more. Overall, I have definitely seen a marked improvement in the aspects of my game that I wanted to focus on. I'm enjoying pickup now a lot more than I was a few months ago, and some of that is because of the fun stuff that I learned from Brad P. Arguably that's been the most important thing in the end... because the more I enjoy it, the more I do it, and the better I get! " - Regal

You Made My Dreams Come True!

"Thanks to you, I'm ready to go out and have fun playing the game, pressing reset, and being fun, outrageous and audacious. I'm glad that the first live speaker I've seen in my education in the PU community has been you, who's been a stand-up guy all the way and an excellent teacher. Highly recommended." - HungryWolf

This Guy Is a Pioneer

"Another thing to note about Brad P is that he pioneered much of his material himself. He is not just a product of the community, most of his development was done independently from the community at large, although he has since adopted and adapted many aspects and tactics that are commonly used in the community. There is not a question he can't handle, from openers to maintaining relationships and I would highly recommend him to anyone out there who wants to get their game in action." - Disco

I Watched Brad Number Close A VERY SEXY BABE

"Brad proved himself by # closing a very sexy babe. As has been said by others, Brad P is the real deal. He comes in under the radar and has girls hooked on him instantly. He makes up openers on the fly and showed us how easy it can be to use the environment to your advantage." - J Prince

Pay Attention, Because This Guy is Having Sex All the F#$%& Time!

"I have great respect for Brad P, I think he is probably the most qualified person to teach in the whole community. Bar none. It's weird though, a book on openers, cos' that's one thing the community has no shortage of really, but on the other hand these are Brad P openers, and he is having sex ALL the fucking time, so perhaps they are worth paying a little bit more attention to. " - Goose

Brad Perfectly Pinpoints Where You're At In Your Game.

"Brad is really good at perfectly pinpointing where someone's game is and giving them openers to use to develop from that point. For instance, one of the guys seemed socially awkward, at least to me, and instead of giving him standard openers like jealous girlfriend or something way over the top or direct, Brad was tailoring the opener he would use to his personality and delivery. Also, these are his openers, which he's developed. They aren't widely known." - 41

Scored a Makeout In 10 Minutes!

"Brad showed me some openers and some in-venue tactics like his crazy dance numbers. I immediately wanted to try the dance stuff because the last venue we where in was loud as hell and opening with only your voice wasn't going to get me where I wanted to be. I hit the dance floor and tried mimicking Brad as best as I could. I've gotten to the point where I stopped caring if I look retarded doing this shit. I'm into rock and I was bumping and grinding to hip hop, something I never thought I'd do. It paid off, I scored a makeout within like 10 min by hooking this tight Asian girl. I number closed when the tit sucking and hair pulling was over with." - Mike, NYC

Brad Makes it Super Easy to GET RESULTS

"Brad's an amazing teacher. I learned about body language stuff that I was doing wrong that I didn't even realize and showed me how I misapplied certain techniques. I also discovered some inner game and identity concepts that were really helpful. Not corny shit like, "I see the pimp inside you man." Just good, always practical advice about constructing an identity and standing in a set like you DESERVE to be there." - DD

Even Rejection Is Fun With Brad's Material!

"I have to admit, I bombed a few times, but with Brad P's material, it's almost fun to get blown out. Try walking up to a girl and saying, "Hey, did we sleep together last weekend," and have her run off with a shocked look on her face. It's a blast. Plus, it's nice to know that he wants us to improve ourselves, not just our abilities with women. It was easy to feel that he actually cares for people, not just the money they pay him." - Memphis Slim

Brad Made Out With a Girl In 30 SECONDS!

"There's no question that Brad has some serious skill. I saw him take over a seated 10 set Bachelorette party and have them laughing and totally under his control. When I botched one of my own sets, he came in and winged for me, and helped me salvage it by holding two extremely hostile girls while I number closed their friend. But the highlight of the night came when he showed the power of recognizing and tapping into buying temperature first hand. Right in front of me, he made eye contact with a girl, and within 30 seconds, was making out with her. This is 100% true, and was the fastest make out I have ever witnessed. Apparently, after the hour long end of the night breakdown he held with all of the students, he finished the job." - SilverHawkMC

I Number Closed a SUPER HOT Hired Gun

"I can't believe it, I approached and # closed the DJ! She was a 9 with blond hair and a super tight body. Brad P told me to open her up, and I'm like, are you crazy she's got headphones on right now cueing up her next song. He says to wait until she's done and go open. I walk over and open screaming "hey", but I don't step inside the DJ area and she doesn't hear me. I go back to Brad P and he says just go and step into the DJ area. I go again this time stepping right up next to her and her turntables, and then proceed to run some game. She would leave me at times to cue up the next song and after the third time of doing this, I went for the close and got it! " - GreyGoose

I Was TOTALLY COVERED IN WOMEN

"I'm the lead singer in a local rock band, and I do okay with women right now. But honestly, your books have opened my eyes to insane potential I have. I realize that I've been laid mostly by luck or accident, but now I understand how to actually control the process. I especially love what you teach about "endgame logistics", because I've lost so many women that way and I never knew what to do about it. Now I know. That's half the battle, right? Thanks Brad." - Herbie / Marina Del Rey, CA

You're Doing Men a HUGE Favor

"As an attractive, intelligent, successful woman, you'll probably be shocked to know how fascinated and intrigued I was by your material. Especially the Diary of A Pickup Artist book! I even found myself getting turned on as I read it. I know that sounds weird, but it's true. You're so sexual, so bold and dominant, and not to mention f#@$% hilarious, I wish there were more men out there like you. You are doing all the guys out there a huge favor." - M.L. / Santa Monica, CA

I Got TWO GIRLS AT ONCE With your Material

"Brad, just reading your stuff has made me bolder and ballsier. In fact, I almost laid two chicks at the same time last weekend, my approach consisted of yelling at them as they stopped at the light. The only reason it didn't happen was that one of the girl's fiance came home! (She forgot to tell me about him.) I had to run out the back. You rock. I've learned more from a couple of your books than all the other "expert" advice combined. " - Marcus / Irvine, CA

Brad's Most Controversial Shocker Opener WORKS LIKE A CHARM

"I have field-tested Brad's shocker openers, of which the Horse Girl is one, and I can tell you they work. It is easy to create your own shocker openers and that keeps things interesting." - Equal

I Got WAY More than I Bargained For...

"Dude, the "Diary of A Pickup Artist" book is like an XXX version of The Game, except your book is way more instructional because you break down all the psychology of everything you do so clearly. I mean dozens and dozens of stories and detailed analysis of you getting beautiful women into bed, I'd pay hundreds of dollars for that information alone!" - Ian / Los Angeles, CA

NOTHING in the Dating Genre Comes CLOSE to your Stuff

"I've purchased, read and watched virtually every product in the dating and pickup genre. Nothing comes close your stuff. Plus, you're really living the life day-in and day-out. Your skills are truly insane, the stories, the bold approaches, the highly sexual frames you quickly draw women into. Dude, you're like the "Tommy Lee" of dating, except that you can actually teach what you do to others. It's inspiring to know you started out a regular guy, like me. Just reading a couple of your books helped me almost immediately. For example, one night I used some of your attract material, plus some of what you teach about "endgame logistics", and all of the sudden I had pretty hot bi-woman (who'd known me for a long time) practically rip my clothes off one night. I owe you one! PS: Your Fashion Bible has literally saved me from spending over a thousand dollars in clothing that doesn't really match my identity. Did I mention that I'm getting women to approach and compliment me on my clothing all the time? " - Anthony / Charlotte, NC

I Got Incredible Results from Brad P

"I just have to send you a thank you note. I took the Oct 19th seminar. I loved it. Your cds have proven to be an amazing resource. They are incredible. Thank you so much, your advice works, but your teaching style is even better. I went on the fashion makeover during the seminar and have worn the clothes you picked out, to bars and back to Ritual. The response has been more than instant attraction. You should offer a fashion only 'seminar', on generating attraction with fashion. I cannot express how happy I am." - Adam

Listening/reading anything this man writes = Success

"Brad, You simply took me from guy getting back in the community after a 3 year absence to being the guy all the "hot guys" are envying. I made a few changes to my walk and fashion, I was already confident and okay looking but the changes I made took me from a B-Game to an All-Star Game level. The Shocker was awesome, and using the one I made, coupled with horse girl just pushed me up a whole new level! By the way, all your stuff, I use it for Day Game only and I get these sorta results. So you kick ass, man, thanks again. P.S. I have learned some stuff from other coaches but none got me results as quick as you did." - Adil / United Kingdom (http://www.adilamarsi.com)

I Lost My Virginity to a Model ON MY BIRTHDAY

"I met Brad in 2007 and had a BREAKOUT workshop. I ended up opening over thirty women in a single night even though I normally would talk to two or three. I ended up MAKING OUT with a girl in TWO MINUTES and number closing at least three gorgeous women. I even had one want to go home with me THAT NIGHT. Since then I have had ongoing coaching from Brad and he helped me lose my virginity to a MODEL. ON MY BIRTHDAY. No Joke. She is SO HOT that my guy friends started asking me for advice. I am still with her today, and Brad coaches me on issues I am having and helps me keep the power in the relationship. So far so good... She told me she loves me, and I don't think she's going anywhere. From the bottom of my heart, I thank you for everything. I would have totally fucked this up without you. Keep on doing what you were put on this earth to do, and I'm sure I'll talk to you soon." - William / Knoxville, TN

By far amazing

"Brad P is by far amazing, I don't say this cause he's the #1 PUA rated by three different people. I say this because his focus is around his students. He has the deepest desires to help other men improve their life. 30/30 Club is by far the best thing I've done in my life. Not only has my life improved with women, it's improve my relationship with my family and has helped me be more successful in life in general. Brad P knows." - Templar 30/30 Club

Brad P Quotes

The four qualities that lead to mating success in the animal kingdom (including humans) are:

Dominant
Attractive
Elite
Access to resources

Now would be a good time for you to figure out what's been stopping you from showing these qualities in the past. You can easily convey them with your clothing, if only you could stop the blockage inside you that says "I'm scared to wear that."

The major part of the game that I find most people in this situation neglect is developing their identity. None of this stuff is going to work if you have the identity of a loser. You'll always communicate low value.Okay, you already know that. It's been stressed to you in many CDs, on the internet, and in eBooks that you need to change yourself into a cool guy. Most other guys who are worth listening to talk about this. Perhaps you identify some areas that need work. Going to the gym would help. Maybe an improv class or acting lessons would make you more socially adept. But that gym membership doesn't amount to much, and you never get around to doing that comedy class. You just do the usual twenty minutes a day on the forums while at work then listen to a seduction CD on the car ride home. As a result, your identity and personality don't really change much. If you started with a loser identity, you now have the identity of a loser who is well-educated about seduction and social dynamics. "Educated loser" - not quite what you had in mind.