Users Online:
313

Anonymous - Ten To One Method Self Hypnosis (528.0 Kb eBook)
eBook downloads:
477
To get new PUA materials to you mailbox every week please subscribe to our mailing list, using form below

Self-Hypnosis is a naturally occurring state of mind which can be defined as a heightened state of focused concentration (trance), with the willingness to follow instructions (suggestibility). Self-hypnosis is often more practical as a stress management tool than normal hypnosis, as you do not need to have a hypnotist present.Drawing on the same "relaxation response" that drives meditation, self-hypnosis helps you to relax your body, lets stress hormones subside, and distracts your mind from unpleasant thoughts. The relaxati... More >>>
Anonymous - "Ten To One Method Self Hypnosis" is electronically distributed. You can download it or order on DVD.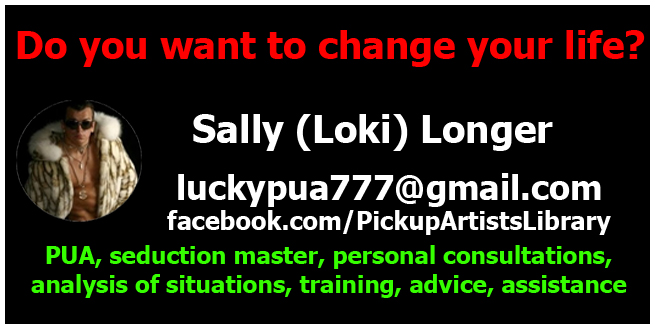 Self-Hypnosis is a naturally occurring state of mind which can be defined as a heightened state of focused concentration (trance), with the willingness to follow instructions (suggestibility). Self-hypnosis is often more practical as a stress management tool than normal hypnosis, as you do not need to have a hypnotist present.

Drawing on the same "relaxation response" that drives meditation, self-hypnosis helps you to relax your body, lets stress hormones subside, and distracts your mind from unpleasant thoughts. The relaxation achieved with self-hypnosis can be intense. Unlike meditation, we often use affirmations as part of self-hypnosis to manage stress and build self-confidence. Affirmations are the positive statements (based on rational thinking) that we make to ourselves to counter stress and unpleasant thoughts - see our article on Rational and Positive Thinking for more information on this.

This small ebook shows you how to use self-hypnosis as a useful relaxation technique

About Author:

Anonymous (used as a mass noun) is a group initiating active civil disobedience and spread through the Internet while staying hidden, originating in 2003 on the imageboard 4chan, representing the concept of many online community users simultaneously existing as an anarchic, digitized global brain.[2] It is also generally considered to be a blanket term for members of certain Internet subcultures, a way to refer to the actions of people in an environment where their actual identities are not known.

In its early form, the concept has been adopted by a decentralized online community acting anonymously in a coordinated manner, usually toward a loosely self-agreed goal, and primarily focused on entertainment. Beginning with 2008, the Anonymous collective has become increasingly associated with collaborative, international hacktivism, undertaking protests and other actions, often with the goal of promoting internet freedom and freedom of speech. Actions credited to "Anonymous" are undertaken by unidentified individuals who apply the Anonymous label to themselves as attribution