Users Online:
329

Geoff - Real Social Dynamics (157.0 Kb eBook,
$24.38

FREE

)
eBook downloads:
446
To get new PUA materials to you mailbox every week please subscribe to our mailing list, using form below

Real Social Dynamics Seminar Transcript. How to get her chasing YOU. I had a few thoughts this week, from watching some guys I was working with on program. In our teachings, we frequently refer to something we call "active disinterest", which is a tactic we use to get the girls chasing US, not the other way around. Well, someone suggested we re-name it "tentative interest", which I think has some merit. To me this is all the same thing, but for some guys this disintinction could be useful since they're learning only from tex... More >>>
Geoff - "Real Social Dynamics" is electronically distributed. You can download it or order on DVD.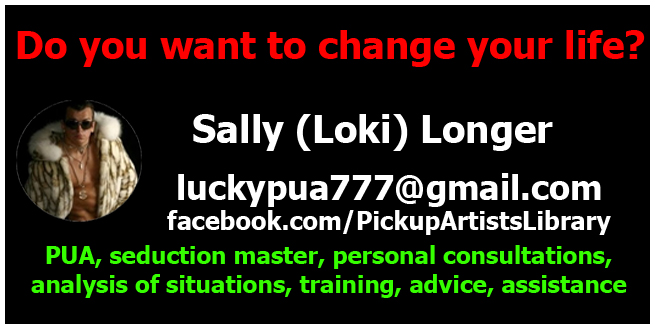 Real Social Dynamics Seminar Transcript. How to get her chasing YOU. I had a few thoughts this week, from watching some guys I was working with on program. In our teachings, we frequently refer to something we call "active disinterest", which is a tactic we use to get the girls chasing US, not the other way around. Well, someone suggested we re-name it "tentative interest", which I think has some merit. To me this is all the same thing, but for some guys this disintinction could be useful since they're learning only from text so its important for the terminology to be as accurate as possible... - Geoff

About Author:

After attending West Point for undergraduate university (where Geoff became the 'official military lady's man'), Geoff went to work for Tony Robbins as a business associate of one of Robbins' Trainers.

After traveling around North America learning how to produce amazing results in his life and the lives of others, Geoff winged with Tyler and other Executive Coaches in the hottest venues of the infamous Sunset Strip.

Afterwards, it became apparent that Geoff was definitely someone who would make a high-calibre Instructor. So Geoff was initiated into the RSD Executive Coach training program and then nominated to become the present Operations Manager of the Project Hollywood Mansion.

His dedication to the mission, core values, and ideals of the RSD crew thoroughly impressed Senior Management, and he was invited to join the Real Social Dynamics team to travel to Europe to attend a thorough international field training program to become an Executive Coach.

"I made a lot of progress. It's been the longest journey to get the results that I've wanted, and this program has been the first step in all that...Geoff is great in every way...I have seen amazing things, have advanced massively even though I have a long way to go. I'd say these 3 days have cut off years from my learning curve."

- Jim R. of Minneapolis, MN, USA

Now, Geoff lives in Los Angeles and will share with you his secrets on how to attract and seduce the women of your dreams. With his sniper-sharp wit and aggressive demeanor, Geoff teaches men how to attract with using a simple and unique style.

Working with Geoff, clients will experience his passion and love for giving a 100% committed effort to helping students achieve lasting success with the women they've always wanted. Students that are really interested in getting their game up to speed may receive individualized training with Geoff.

"The guys that I knew would do well got even more exceptional results than prior to the program, and increased their knowledge and choice to unbelievable levels. Going out with the RSD instructors, you feel like you're in the hands of complete experts. They take control of the experience and make sure that you learn everything that you'll need to know to get the same results. These guys are the real deal. I had no idea that anything like this even existed. You HAVE to see it done in real life. No amount of reading theory can replace the live experience. Once you've seen it done, it becomes so easy because it's just a matter of replicating what you learned as you watched it go down right in front of you. The best part about it was that seeing it done made me realize how NORMAL it is to do this. It's completely natural. My life has definitely changed. Take the program, and get this area of your life mastered."

- Paul W. of Hong Kong, China