Users Online:
297

Dave Riker - Speed Seduction Technical Manual (2.1 MB eBook,
$30.78

FREE

)
eBook downloads:
3312
To get new PUA materials to you mailbox every week please subscribe to our mailing list, using form below

This is TEXTBOOK transcription to series of audio lectures on the CDs. The text in this book will also include notes, definitions, instructions and graphics which are not on the CDs. Some of these items may be referred to on the CD audio, others may not--this is by design. It's also another reason why each, the audio and the full workbook, have value on their own (and also compliment one another). In order to best present the text in this transcript/workbook, and allow for the student to follow along, certain conventions had... More >>>
Dave Riker - "Speed Seduction Technical Manual" is electronically distributed. You can download it or order on DVD.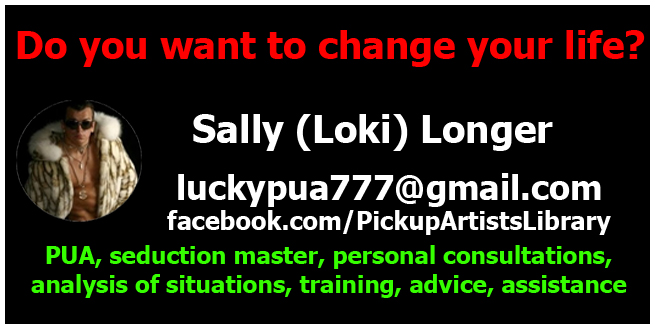 This is TEXTBOOK transcription to series of audio lectures on the CDs. The text in this book will also include notes, definitions, instructions and graphics which are not on the CDs. Some of these items may be referred to on the CD audio, others may not--this is by design. It's also another reason why each, the audio and the full workbook, have value on their own (and also compliment one another). In order to best present the text in this transcript/workbook, and allow for the student to follow along, certain conventions had to be developed. These will allow you to understand the different types of text, and how the text is best read and interpreted. Be sure to review the "Formatting and Conventions" section for a description.

To make a full, direct transcript of audio lectures is a monumental task. There is MUCH room for interpretation in terms of punctuation, sentence and paragraph structure, etc. In spoken lectures, there is a LOT of meaning conveyed by the speaker in terms of emphasizing words, pausing, and vocal inflection. On this product a great deal of effort has been taken to create the transcript and to do a reasonably good job of conveying those qualities and aspects of a "vocal" delivery, in written form. There may be some slight errors or omissions, and some aspects of the grammar and the punctuation may not be formally "correct" in the most strict interpretation of English grammar and punctuation rules, but it is effective in conveying the meaning as intended. If there are any extreme errors or omissions, please to go www.daveriker.com and contact Dave Riker directly. Please provide concise yet full details of what you found and these changes may be incorporated into a revised version of the product at some future date.

About Author:

Dave Riker is a better spokesman for Speed Seduction than Ross Jeffries - who I hate at times but other times think is great. Dave comes across as a solid likeable guy.

One of the most useful parts of Dave Riker's course is Conversation Management where it helps you to steer conversation topics from normal stuff to deeper and sexual topics. The best advice he gives is that it may take several tries to go from shallow topics to deep ones and you are unlikely to get there in one go ...so a conversation may go shallow, medium, deep, very deep then reach a dead end and back to medium then deep then dead end back to shallow etc etc. He explains that much better.

I still love the realistic attitude and I liked the way Dave said that guys should not go around expecting 10s and should lower their sights for 6s and 7s! He said that you'll have a very hard time finding a 10 and even 10s in real life don't look like the 10s from Playboy etc. Speed Seduction is considered 'fringe' stuff by a lot of the community and has a bit of a bad rep.It's still not quite as 'out there' as The Sexual Key which I will review one day (if I get the time)

One thing I plan to do once I get back to more PUA life is to buy a digital recorder and just record loads of conversations I have. I have a feeling my diction is not clear and my volume may be too low. I also need to guage how much tone control I have I'm probably very monotone. I am definitely aware that at times I speak too fast and the speed is constant which can be over-powering.

I think so far the course has opened up my awareness. One neat thing I do when walking down a street is to tell myself how to describe everday objects in more descriptive terms. Instead of seeing a blue car - I'm saying to myself that's a small, glistening metallic blue car. Just pile on the adjectives! Hopefully it's leading to more descriptive and richer conversation