Mystery - Warm Approach Savoy And Tenmagnet.mp3 (copyrighted book, review only)
To get new PUA materials to you mailbox every week please subscribe to our mailing list, using form below


Mystery - "Warm Approach Savoy And Tenmagnet.mp3" is copyrighted and can't be downloaded or ordered on DVD, you can try to find it at amazon.com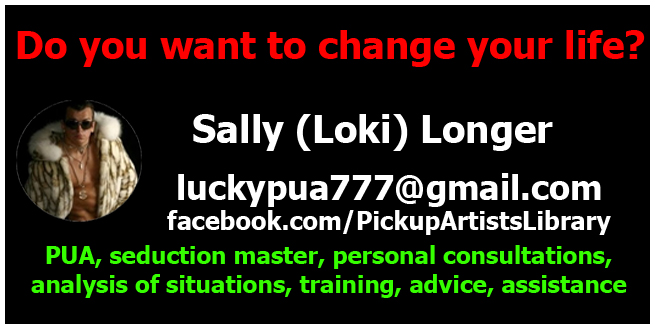 Publisher: PUA Media Library
Category:
Pickup Masters
Author:
Mystery
Format: Audio Book
Delivery: Download
About Author:

Mystery is the stage name and alter-ego of Canadian author and entertainer Erik von Markovik (born Erik James Horvat-Markovic on September 24, 1971). An innovator in the seduction community, he is one of the main characters in the non-fiction book The Game: Penetrating the Secret Society of Pickup Artists by his "best friend" Neil Strauss. He was featured in the 2007 VH1 reality television series The Pick-up Artist. Mystery is the self-proclaimed "world's greatest pick-up artist" and was introduced as the "world's most successful pick-up artist" during the premiere of his VH1 show.

When you first see the towering, 6-foot-5 man who goes by the name "Mystery," there's almost too much to take in. A floppy top hat and goggles, bright red lips tattooed on his neck, kohl-lined eyes, platform boots, black nails, binoculars slung around his neck: These are just a few of Mystery's unexplainable accouterments. But Mystery says he knows just what he's doing. He calls his look "peacocking" -- and explains that it's a way of capturing women's attention, to intrigue and, ultimately, sleep with them.

The seduction community has been receiving extensive exposure within the last years. Neil Strauss wrote a book this year named "The Game: Penerating the Secret Society of Pickup Artists" which is a handbook and biography about himself, Mystery, and the beginnings of the PUA community.

Biography of Mystery

The persona of Mystery was created by Erik von Markovik in the late 1990s for his mentalist act, entitled "Natural Magic". The name Mystery was also used by von Markovik as his internet nickname and pen name. He is the author of The Mystery Method: How to Get Beautiful Women Into Bed, published by St. Martin's Press.
Mystery claims that he was a "late bloomer" and spent the early years of his life playing Dungeons and Dragons, and that his limited success with women until his early twenties led him to go to nightclubs every night and try different ways to attract women. He states that years of observation and trial and error led to the system he teaches for meeting women. He shared his theories on an internet newsgroup, alt.seduction.fast, and became well-known on that newsgroup.

Mystery instructed and then befriended author Neil Strauss, who went on to become Mystery's 'wingman', and ultimately a mentor in the seduction community himself. Together with a number of other former students, Mystery and Strauss shared a large residence in Hollywood ('Project Hollywood'), which soon became a central point for aspiring students. The friendship is recorded in Strauss's book The Game.

In 2004, Mystery went into a partnership with fellow dating coach Nick Savoy to form Mystery Method Corporation, although Mystery himself stopped teaching at regular programs in mid-2005. Nevertheless, the company continued to grow, and added approximately a dozen other instructors until late 2006, when Mystery left to form his own company, called Venusian Arts. Mystery Method Corporation continued on without him with most of the same instructors, and has since changed its name to Love Systems.

On April 11, 2007, Mystery appeared on the television show Late Night with Conan O'Brien to promote his book The Mystery Method: How to get Beautiful Women into Bed. Mystery explained concepts such as going "in field", "peacocking", the structure of a pick-up, and the importance of not telegraphing interest when approaching a group of people. He has since been invited back for a second guest spot.

On August 6, 2007, the series premiere of Mystery's television show The Pick-up Artist aired on VH1. Soon after, an episode of Saturday Night Live on November 3, 2007 started with a sketch in which Darrell Hammond played Bill Clinton at a Halloween party, dressed up as Mystery. A second season premiered on October 12, 2008.

SO at 35, Mystery (aka Erik Von Markovik) is widely considered one of the most successful pickup artists in the world and makes his livelihood by getting other men laid. He first shot to fame in 2005, after a best-selling expose by journalist Neil Strauss, "The Game," brought readers inside his life within the Los Angeles seduction scene. Mystery then published an instructional manual titled "How to Get Beautiful Women Into Bed: The Mystery Method." Now he's starring in his very own reality-TV series, "The Pick-up Artist," premiering Aug. 6 on VH1. There, with the help of his wingmen, Matador and J Dog, Mystery plans to fix the luck of a 45-year-old virgin and seven other hapless Don Juans.

Technique and contributions

Mystery is credited with coining a number of terms and concepts in the seduction community. These concepts are borrowed from theatrical showmanship, and his experience as a magician. Some terms Mystery is credited for include:

* Set - A group of two or more people which a man would have to approach and befriend in order to be able to woo his "target" girl. "Beautiful women are rarely found alone."

* Peacocking - Dressing to stand out, or to have an item of clothing or an accessory that looks interesting, allowing the girl to comment on it if she is interested in starting a conversation with you.

* The 3-second Rule - If you see a girl you are interested in, you must approach her within three seconds or you will over-think things and create too much approach anxiety and analysis paralysis, and you will risk her seeing you staring at her.

* Neg - A backhanded compliment intended to snub a potential mate ("target"), telegraph a lack of interest ("false disqualification"), encourage the target to prove her worth ("qualify"), and simultaneously disarm 'obstacles' such as protective male or female friends.

Though seminars and workshops on seduction technique preceded his involvement, Mystery is credited with introducing "in-field" workshops, in which small groups of students were appraised on their technique as they approached unaffiliated women in bars and nightclubs.
Professional involvement

Mystery is the author and producer of the Mystery Method line of seduction training materials, and one of the first to do live bootcamps, has been mentioned previously in ELLE magazine. I wasn't aware of this until now. I read the very entertaining and informative article.

Mystery was involved with the company previously known as Mystery Method until 2006. This company has since changed his name to Love Systems. Mystery currently is a minority owner in the business The Venusian Arts which runs seminars and "in field" workshops to teach men seduction, and sells products on this theme.

A reality series titled The Pick-up Artist debuted on August 6, 2007 on VH1. In the series, Mystery and his wingmen trained eight "lonely, socially inept" men in an eight week bootcamp in Austin, Texas to compete for the title of "Master Pick-Up Artist". A second season debuted on October 12, 2008. Mystery held his first college seminar on May 4, 2006 at MIT. Mystery has also received several notable awards within the seduction community. Mystery has been ranked as one of the Top 10 Pick-up Artists Of The Year for the last seven years, and one commercial website awarded him the top spot in 2007.
Bibliography

* The Venusian Arts Handbook (2005). The Mystery Method. (ebook) No longer available.
* The Mystery Method: How to Get Beautiful Women Into Bed (2005). Mystery, Chris Odom. St. Martin's Press. ISBN 978-0312360115
* Revelation (2008). Mystery, Chris Odom, James Matador. ISBN 978-0-9818733-005

When he's not in front of the camera, Mystery pays homage to his two idols -- Tony Robbins and Casanova -- by traveling the world offering seduction workshops, some of which run nearly $5,000 a pop. During these seminars, he roams hotel conference rooms in a headset, scribbling Venn diagrams and flowcharts meant to illuminate the female mind. Later on, students accompany him to a nightclub, where like a skilled magician, Mystery produces three platinum blonds on his lap or summons a phone number from a woman standing next to her boyfriend.

As it happens, Mystery used to work as a magician. But he says that he found he could cut the magic from his interactions with people and still captivate them - especially women. Paired with some self-taught psychology, those mind games developed into "The Mystery Method," which, he says, teaches men to rewire a woman's "attraction circuitry."