Bart Baggett - The Secrets To Creating Chemistry Seminar Manual (copyrighted book, review only)
To get new PUA materials to you mailbox every week please subscribe to our mailing list, using form below

This is the 65 page Manual/Workbook from The Secrets to Creating Chemistry Seminar. The Full The Secrets To Creating Chemistry Seminar (2 Day Live Seminar Recorded on 10 hours of audio tape.) Advanced NLP Home Study Course...by Bart A. Baggett cost $295 and includes: * 10 Cassettes: Nine Hours of Live Recordings * Time-Line Meditations: Create Your Future Love -and- Clearing Up Past Relationships * A Special Time-Line Programming Cassette that literally places the memory of your ideal mate into your future... More >>>
Bart Baggett - "The Secrets To Creating Chemistry Seminar Manual" is copyrighted and can't be downloaded or ordered on DVD, you can try to find it at amazon.com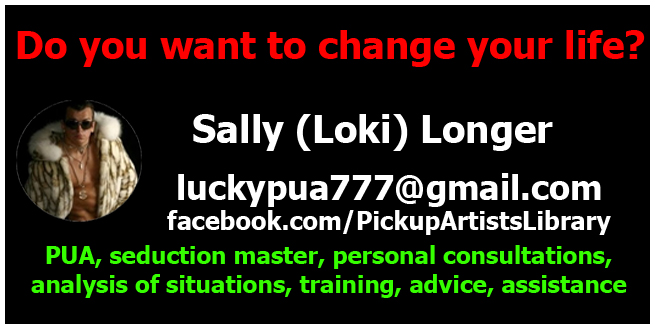 This is the 65 page Manual/Workbook from The Secrets to Creating Chemistry Seminar.

The Full The Secrets To Creating Chemistry Seminar (2 Day Live Seminar Recorded on 10 hours of audio tape.) Advanced NLP Home Study Course...by Bart A. Baggett cost $295 and includes:

* 10 Cassettes: Nine Hours of Live Recordings

* Time-Line Meditations: Create Your Future Love

-and- Clearing Up Past Relationships

* A Special Time-Line Programming Cassette that literally places

the memory of your ideal mate into your future time-line on the

subconscious level. You just relax.

* The 65 page Secrets to Creating Chemistry Seminar Manual/Workbook

The whole concept of "chemistry" has been very, very, very misrepresented by all those "experts." Maybe they were sincere, but for sure they were misguided. You see, there's actually a simple, predictable, and specific method that you can master in a very short time. This secret system combines the powerful technologies of NLP., time-line, handwriting analysis, and Bart's own unique special methods.Can you imagine how good you would feel to be able to walk up to anyone you find attractive and instantly create that deep sense of connection, rapport, sexual excitement? If in the past, you have left "chemistry" to chance, you are in for a big surprise. Read On.

Sexual chemistry can be created at your beck and call. In fact, you can also create states of lust, commitment, intimacy, and even love. Bart has discovered the most amazing new developments in the field of human development, psychology, and persuasion that can release your power to finally have the kind of relationship you have always wanted. And now, you can learn it all in a two day workshop from your car or home on cassette tapes.Have you ever wondered, "Why do some people feel an uncontrollable magnetic attraction to someone, and others have no spark?" The answer is the internal mental process. Now, you can control this process.

After years of studying the master persuaders, linguists, lovers, and therapists, Bart discovered the secrets to falling in love AND he can teach you the specific method for making others fall in love with you (or just lust, whichever fits your agenda). Much of the technology is based on Neuro-Linguistic Programming(tm) and the concept of Time-Line. Even if you have a background in either one of these fantastic methodologies for change, you've never seen or heard the specific outcomes that you can achieve using this specific system. It is truly a breakthrough is human behavior.

Now you can attend Bart's $295 2-Day Creating Chemistry seminar without ever leaving your home... for less! Imagine spending two days with Bart Baggett unlocking the secrets to creating states of lust, passion, love, and absolute connection. As you complete The Secrets To Creating Chemistry Home Study Course, you'll understand clearly---maybe for the first time in your life---how some people consistently create charisma, love, and passion in their lives. What's more... you will have the actual skills to do it.

Sophisticated communication skills that create intense states of pleasure whenever you use them. In addition you will learn specific tools to control your present attitude, other's reaction to you, and even program your future. You will be able identify, explain, and use the following specific skills:

* Create an instant state of attraction within the first 1 minute of meeting.

* Identify someone's motivational strategy.

* The best opening sentences so that people find you totally fascinating.

* Elicit someone's highest values in life.

* Lead your lover into a long lasting commitment.

* Discover how to lead your lover into the ultimate orgasm.

* Learn specific ways to gain rapport and create attraction person based on the individual's handwriting traits.



About Author:

Bart A bagett is one of America's top Forensic Handwriting Experts and popular Host and Interviewer. He is a speaker, trainer, author, and media personality. He has students worldwide and campuses teaching from his books in Taiwan, India, and the USA. He has a widely read internet based newsletter and hosts sold-out seminars worldwide. Plus, he owns a Los Angeles based production company specializing in non-fiction Film/TV projects.

Bart Baggett is a frequent guest expert and celebrity guest on national news and talk shows from CNN's Larry King Live to VH1's I Love New York.

Bart has been exploring human nature through the fascinating world of handwriting analysis for over 16 years. A graduate of Pepperdine University, Bart is a certified therapist and handwriting expert incorporating his extensive training in Hypnotherapy, Time-Line Therapy, and Neuro-Linguistic Programming into a multi-dimensional approach to human change.

Bart is the Founder of Handwriting University.com, which trains and certifies handwriting students worldwide. He is also a highly sought after professional speaker and talk-show guest. Bart is the author of two books The Secrets to Making Love Happen! (Using Handwriting Analysis and Neuro-Linguistic Programming) and the just released Success Secrets of the Rich & Happy - How to design your life with financial and emotional abundance.

In addition to his writing, lecturing, and training, Bart has gained national attention by appearing on over 1500 radio and TV shows, including National Public Radio, CNBC, Montel Williams, Leeza, Debra Duncan, the Howard Stern Show, The Home and Family show on The Family Channel, and the Home Show, and many others. He is also the inventor of the Grapho-Deck, a card game that uses handwriting to analyze personality traits. Bart has become a personality expert for talk shows and commentators nationwide.

He has been featured in dozens of newspapers and magazines worldwide including the Dallas Morning News, Biography Magazine, Forbes Small Business, Family Life, Soap Opera Digest, Plano Star Courier, Kansas City Star, Vent, Stuff, London Times, Bangalore Times, and many others.

His writings have been published internationally. His first book has been translated into Chinese and is distributed throughout Asia in both languages.