Users Online:
261

Allan Tutt - Keys To Power Persuasion (1.5 MB eBook)
eBook downloads:
583
To get new PUA materials to you mailbox every week please subscribe to our mailing list, using form below

After reading this book you will fully understand the power persuasion methods, you will naturally want to recommend it to your friends and associates. Great! That's the best thing you can do to help them get the most out of the science of conversational hypnosis.In fact, you may even feel so strongly about helping other people, you may want to help spread the word about this amazing course. Most people assume that persuasion is the providence of salespeople, and that if you're not involved with selling, then you don't need ... More >>>
Allan Tutt - "Keys To Power Persuasion" is electronically distributed. You can download it or order on DVD.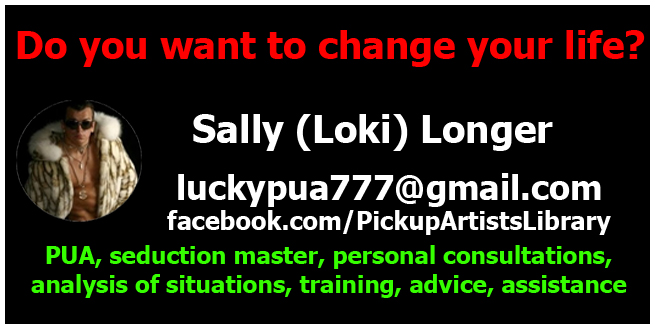 Publisher: PUA Media Library
Category:
NLP
Author:
Allan Tutt
Format: eBook
Delivery: Download
After reading this book you will fully understand the power persuasion methods, you will naturally want to recommend it to your friends and associates. Great! That's the best thing you can do to help them get the most out of the science of conversational hypnosis.

In fact, you may even feel so strongly about helping other people, you may want to help spread the word about this amazing course. Most people assume that persuasion is the providence of salespeople, and that if you're not involved with selling, then you don't need persuasion skills. However, as you begin to take note of some of the various situations in which persuasion already takes place in your life, you may realize that you are already trying to persuade the people around you to do one thing or another. Many life situations call for the application of persuasion skills. When you learn the powerful skills taught in this course, you will find that you are able to get what you want and need from other people. You can persuade people to give you respect, to see your point of view about a given topic, to help you when you need it, and to do what needs to be done.

Table of Contents:

- Introduction To The Keys To Power Persuasion

- Psychology of Persuasion: An Overview

- Motivating Desires: Understanding The Average Prospect

- Personality Types: Discover Your Prospect's Secret Buttons

- Preparing To Persuade: Training The Subtle Skills To Hypnotize Conversationally

- The 5 Phases of Power Persuasion

- Persuasive Formulae: The Right Messages In The Right Order

- Persuasion Example 1: Marketing Materials

- Persuasion Example 2: Inspire Trust & Respect

- Persuasion Example 3: Hypnotic Speeches

- Persuasion Example 4: Seduction

- Persuasion Example 5: Self-Improvement

- Appendix A: Hypnotic Power Words

- Appendix B: Hypnotic Phrases