Bart Baggett - The Secrets To Making Love Happen (copyrighted book, review only)
To get new PUA materials to you mailbox every week please subscribe to our mailing list, using form below

Take Control of Your Love Life Now! Empower Your Relationships Using Handwriting Analysis and NLP! Here are the solutions to the single person's biggest problems--Making Love Happen . If you've ever suffered from a love-deficiency, this book is for you. Discover how to choose someone who's really compatible and quit wasting your time. Learn where to find a mate--and how to attract that perfect partner. It's not just a book about handwriting and neuro-linguistic programming, it's a guide to dating in the 90's using the techni... More >>>
Bart Baggett - "The Secrets To Making Love Happen" is copyrighted and can't be downloaded or ordered on DVD, you can try to find it at amazon.com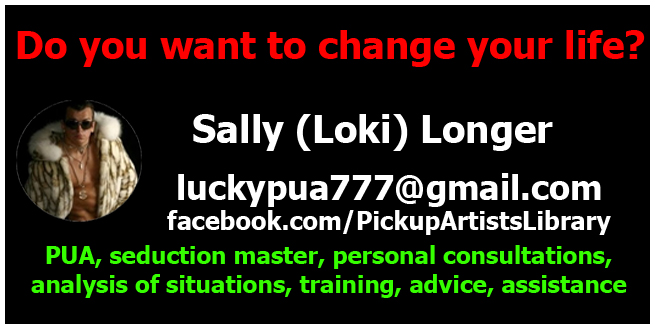 Publisher: PUA Media Library
Category:
Romantic
Author:
Bart Baggett
Format: eBook
Delivery: Download
Take Control of Your Love Life Now! Empower Your Relationships Using Handwriting Analysis and NLP! Here are the solutions to the single person's biggest problems--Making Love Happen . If you've ever suffered from a love-deficiency, this book is for you. Discover how to choose someone who's really compatible and quit wasting your time. Learn where to find a mate--and how to attract that perfect partner. It's not just a book about handwriting and neuro-linguistic programming, it's a guide to dating in the 90's using the techniques to select, understand and influence prospective lovers.

Bart Baggett is a master at simplifying these sometimes complex topics into easy-to-understand language and humorous stories. The Secrets to Making Love Happen! is written in such a relaxed yet riveting format, it's easy to forget the book is discussing proven scientific techniques.Read it today, make love happen tonight it's that effective. Any person not happily married or with the love of their life can benefit immediately from these secrets.

Bart Baggett teaches you how to look at a sample of handwriting (cursive) and to begin to identify , quickly and easily, the individual personality traits that you either want to avoid, or attract, in a relationship. Handwriting Analysis is an accurate science of interpreting both positive and negative personality traits traits that support success or failure. Examples of personality traits that you can identify in a sample of handwriting are: self-esteem, generosity, directness, talkativeness, trust, desire for attention, sarcasm, physical and sexual drives, analytical thinking, sensitivity to criticism, paranoia, pathological liar, lives in the moment, domineering, cumulative thinking, procrastination, aggressiveness, loner, fear of success, pride, and many more!

Are you now beginning to see how valuable a tool Handwriting Analysis can be to the success of your relationships? Handwriting analysis can be applied to family relationships, sexual relationships, and work relationships. I have personally used Handwriting Analysis (the knowledge that I learned from reading this book) to screen future employees, business partnerships, and friendships, as well as to enhance the relationships that I already have had for years. I understand much more quickly how people might relate, and how to defuse any potential conflicts.

For example, I will now know in advance that there is potential for two of my business partners to have conflict due to one person's trait of bluntness and sarcasm in relation to the other's trait of sensitivity to criticism. Now I can assist them in becoming more aware of each other's communication style so that they can better understand their interaction, and then decide to make different choices in their communication. I strongly reccomend this book, and the application of this valuable science, to those of us in life who don't simply talk to ourselves. More importantly, it is a critical tool to be used in order to avoid costly mistakes, broken hearts, and shattered expectations. Now who wouldn't want to buy this book?

About Author:

Bart A bagett is one of America's top Forensic Handwriting Experts and popular Host and Interviewer. He is a speaker, trainer, author, and media personality. He has students worldwide and campuses teaching from his books in Taiwan, India, and the USA. He has a widely read internet based newsletter and hosts sold-out seminars worldwide. Plus, he owns a Los Angeles based production company specializing in non-fiction Film/TV projects.

Bart Baggett is a frequent guest expert and celebrity guest on national news and talk shows from CNN's Larry King Live to VH1's I Love New York.

Bart has been exploring human nature through the fascinating world of handwriting analysis for over 16 years. A graduate of Pepperdine University, Bart is a certified therapist and handwriting expert incorporating his extensive training in Hypnotherapy, Time-Line Therapy, and Neuro-Linguistic Programming into a multi-dimensional approach to human change.

Bart is the Founder of Handwriting University.com, which trains and certifies handwriting students worldwide. He is also a highly sought after professional speaker and talk-show guest. Bart is the author of two books The Secrets to Making Love Happen! (Using Handwriting Analysis and Neuro-Linguistic Programming) and the just released Success Secrets of the Rich & Happy - How to design your life with financial and emotional abundance.

In addition to his writing, lecturing, and training, Bart has gained national attention by appearing on over 1500 radio and TV shows, including National Public Radio, CNBC, Montel Williams, Leeza, Debra Duncan, the Howard Stern Show, The Home and Family show on The Family Channel, and the Home Show, and many others. He is also the inventor of the Grapho-Deck, a card game that uses handwriting to analyze personality traits. Bart has become a personality expert for talk shows and commentators nationwide.

He has been featured in dozens of newspapers and magazines worldwide including the Dallas Morning News, Biography Magazine, Forbes Small Business, Family Life, Soap Opera Digest, Plano Star Courier, Kansas City Star, Vent, Stuff, London Times, Bangalore Times, and many others.

His writings have been published internationally. His first book has been translated into Chinese and is distributed throughout Asia in both languages.