Brian Moreland - Handwriting Success Secrets (copyrighted book, review only)
To get new PUA materials to you mailbox every week please subscribe to our mailing list, using form below

This publication is an excerpt of Bart Baggett's latest 456 page book: "Success Secrets of the Rich and Happy Happiness is a Choice, Wealth is a decision How to design your life with financial and emotional abundance.". Edited by Brian Moreland. Success Secrets of the Rich and Happy Happiness is a Choice, Wealth is a decision How to design your life with financial and emotional abundance.What do you really want? Seriously, take a moment and think about what specifically would make your life absolutely wonderful! What would m... More >>>
Brian Moreland - "Handwriting Success Secrets" is copyrighted and can't be downloaded or ordered on DVD, you can try to find it at amazon.com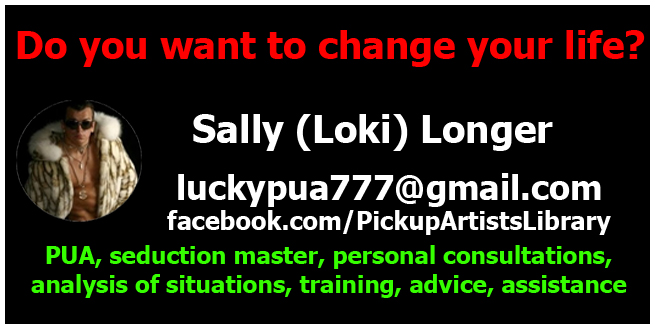 This publication is an excerpt of Bart Baggett's latest 456 page book: "Success Secrets of the Rich and Happy Happiness is a Choice, Wealth is a decision How to design your life with financial and emotional abundance.". Edited by Brian Moreland. Success Secrets of the Rich and Happy Happiness is a Choice, Wealth is a decision How to design your life with financial and emotional abundance.

What do you really want? Seriously, take a moment and think about what specifically would make your life absolutely wonderful! What would make you leap out of bed early everyday with jubilance and anticipation equal to a six-year-old on Christmas morning? What are your passions? Is there anything you love to do frequently just because it's fun? What if ... you have the power within your own mind to create the things you want most in life? What would you create for yourself? Well, I'm here to tell you that you do have the power. I'm talking mega brain power. You have the luxury of having an amazing mind that is essentially a "creative machine." Besides keeping your heart beating and lungs moving, your brain is a programmable machine. In fact, for those of us who learn how to tap into its unlimited potential, our brain can be a powerful "manifesting machine." Everyday your brain continues to manifest into your reality whatever it gets programmed to manifest. Sometimes what you want and sometimes what you don't want. Wouldn't you like to be able to create only what you want in life: Your highest choices?

Well my friend, this is your lucky day! This book reveals a wealth of "Success Secrets" I have learned from numerous rich and happy people. You will naturally learn how you can de-program ineffective mental programs and "design" new mental programs that get the outcomes you really want. This book puts you in complete control of your own sub-conscious mind. How about that?

About Author:

Brian Moreland lives in Dallas, Texas. He is an author, editor, and writing and publishing consultant, helping other writers achieve success. In addition to novel writing, Brian writes two blogs: "Coaching for Writers" and "Adventures in Writing." He also works as a video editor and producer. He wrote, produced, and edited a WWII documentary called Return to Normandy about his grandfather, an honorary war hero. Brian originally self-published Shadows in the Mist and then sold it to Berkley-Penguin/Putnam for a mass paperback deal. In January, 2008, German publisher, Otherworld Verlag, bought the rights to translate Shadows in the Mist in German. It is due to release in Germany and Austria in February, 2010 under the title Schattenkrieger. Brian is a world traveler and frequently visits Europe, Hawaii, and Costa Rica.

Owned by published author, Brian Moreland, Lucky Horse Books and Video helps authors and speakers edit and design high-quality printed books and ebooks that can be sold on Kindle, Nook, Sony e-reader and more. Services include Book editing, cover design, interior layout design, ebook formatting, copy writing, and consulting for ways to publish your book. As an author of both ficiton and non-fiction books and former publisher, Brian Moreland brings over 18 years experience in the book business.

Brian have a passion for helping other writers publish their books. The services Brian offer are publishing consulting, editing, book interior design, cover design, set up with Print on Demand, and ebook formatting. His other passion the film business. Brian Moreland is a video editor for over 18 years, and continue to edit documentaries, TV commercials, and corporate videos for his clients.

Brian is also an internationally successful novelist of suspense and horror. He has worked in book publishing for over 18 years. He has written three novels, two non-fiction books, written for three blogs, and edited and designed several books for other authors, both fiction and non-fiction.

In 2005, he formed his own publishing company and self-published his first novel, SHADOWS IN THE MIST. After winning a gold medal in an international contest, the supernatural horror novel sold to Berkley/Penguin for a mass paperback deal. In February, 2010, SHADOWS IN THE MIST released in Germany under the title SCHATTENKRIEGER. Brian has since completed his second novel, DEAD OF WINTER, coming October 2011. He is currently at work on his third novel. He also consults writers to be successful.