Alan Roger Currie - Mode One (copyrighted book, review only)
To get new PUA materials to you mailbox every week please subscribe to our mailing list, using form below

There is a self-help paperback being discussed on various websites, blogs, and Internet radio shows that has received both praise and criticism, and has led to discussions, debates, and controversy.The book is entitled Mode One: Let The Women Know What You're REALLY Thinking, and was written by an author named Alan Roger Currie, a graduate of Indiana University in Bloomington, Indiana. The book, released in early March 2006, centers on challenging men to increase and improve their level of self-confidence and self-assurance ... More >>>
Alan Roger Currie - "Mode One" is copyrighted and can't be downloaded or ordered on DVD, you can try to find it at amazon.com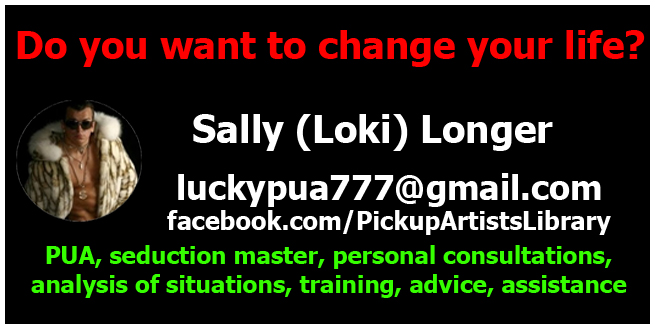 There is a self-help paperback being discussed on various websites, blogs, and Internet radio shows that has received both praise and criticism, and has led to discussions, debates, and controversy.

The book is entitled Mode One: Let The Women Know What You're REALLY Thinking, and was written by an author named Alan Roger Currie, a graduate of Indiana University in Bloomington, Indiana. The book, released in early March 2006, centers on challenging men to increase and improve their level of self-confidence and self-assurance when approaching and interacting with women, as well as encouraging men to be more bold, upfront, and straightforward in expressing their romantic and sexual desires, interests, and intentions.

Currie, who will be interviewed on the BlogTalkRadio Internet radio network on Monday, said some women have offered criticisms of his "Mode One" philosophy, suggesting that it causes men to pursue casual, non-monogamous sexual companionship from women rather than more meaningful, long-term, emotionally profound monogamous relationships with women. Currie calmly dismisses such criticisms, which he sees as highly invalid. "You will find no sentence, paragraph, page, or chapter in my book where I specifically encourage men to pursue one-night stands or weekend flings over meaningful relationships. Most, if not all men know exactly what they want from women. I just encourage them to be more upfront and straightforward about expressing whatever desires they may have in their conversations with women."

About Author:

Alan Roger Currie is an author, screenwriter, and filmmaker who spends significant time in both the Chicagoland area, as well as Los Angeles, California.

Alan Roger Currie is the author of the popular paperback Mode One: Let The Women Know What You're REALLY Thinking.

Currie was born and raised in Gary, Indiana and graduated from Indiana University in Bloomington, Indiana.

Currie has experience performing as an actor on stage, as well as in local, regional, and national television commercials in the mid-to-late 80s and early 90s. Currie briefly performed as a stand-up comedian, and was the 1989 Grand Prize Winner of the Chicago Metropolitan area Miller Lite Beer Comedy Search Contest (The 1990 Grand Prize Winner was well-known movie star and TV star, Bernie Mac).

After completing one of two years in the Indiana University MBA Program, Currie used an internship with New Line Cinema Feature Film productions to make a move to Los Angeles in 1994, and while there, he pursued a career as an actor, screenwriter, and filmmaker. He wrote, directed, and co-starred in two Short Films, and was chosen into the highly selective NBC Page Program, where he worked with the NBC Guest Relations department, and on NBC-produced television shows such as The Tonight Show with Jay Leno, The Fresh Prince of Bel-Air, and In The House.

Since returning to his Midwestern roots, Currie has acted as a co-host & co-moderator (along with his older brother Stephen) for a variety of Urban Community Forums known as "The Fifth Sunday Forums," which have covered a wide range of African-American issues, and Currie has also hosted and/or moderated a number of Relationship Chats that focused on the problems and challenges facing single men and single women in today's dating scene.

Currie is currently the host of an Internet radio show entitled "Upfront & Straightforward With Alan Roger Currie," which focuses on general dating and relationship issues, men's issues, and particularly, what men need to do to improve their interpersonal communication skills with women. Currie conducts many seminars and public speaking engagements, and is always available for media interviews, speaking requests, and panel discussions.

Currie is single, and divides his time between the Northwest Indiana / Chicagoland area, and the Los Angeles area.