Rachel Davis - Conversation King (233.0 Kb eBook,
$24.90

FREE

)
eBook downloads:
1402
To get new PUA materials to you mailbox every week please subscribe to our mailing list, using form below

Rachel Davis has focused on the only pickup and dating guide that concentrates on "what to say" and conversation - the biggest stumbling block for most men.
Rachel Davis - "Conversation King" is electronically distributed. You can download it or order on DVD.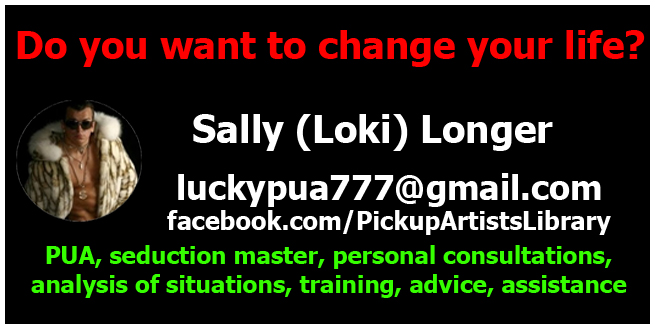 One of the very few Dating Advice eBooks written FOR men BY a woman. Rachel Davis' Conversation King offers a far more unique approach to this field though. Instead of trying to cram everything in, this book focuses on the often-neglected area of being able to actually talk to girls. This is obviously a key area all guys have to be able to handle, and Davis does a great job covering what you need to know, as well as some great tips and examples. Conversation King is relatively short, but thats actually a bonus - it cuts out a lot of the junk similar books tend to include. Considering the conversation can make or break you either when picking up or on a date, this guide could be turn out to be priceless. Includes some very good bonuses plus theres a few links at the end of the book to some interesting bonus videos you'd normally have to pay for.

If there is one thing that men know all too well, it is that women love to talk. In fact, experts claim that women speak an average of 20,000 words per day, versus men's sparse verbal output of a mere 7,000 words. It is not surprising, then, that conversation is one area in which men consistently disappoint their female companions. What men do not realize, however, is that nothing gets a woman "in the mood" faster than a scintillating, exciting conversation. Conventional stereotypes of the "strong, silent type" may be preserved in the old movies of our grandparents' era, but this non-communicative type generally doesn't get very far with modern women. Rachel Davis' Conversation King is an e-book designed to teach men how to transition from a grunting Neanderthal to a savvy, intriguing conversationalist. Written from a unique, "behind the scenes" female perspective, this book unlocks the power of verbal expression to bring any interaction quickly into the zone of intimacy. In this book, Davis shares the deepest secrets of her female friends and herself, offering them up for male use. For men who have been wondering exactly "what women want," this is a rare opportunity to hear it straight from the source. In fact, the insights provided in this program are so proven to work, Davis offers a 60-day, 100% money-back guarantee on the book.

In the e-book, Davis describes how to talk comfortably and confidently with women in any setting, such as at a nightclub, at the grocery store, or at the gym. This sort of "free-flowing" conversation style does not involve sleazy pickup lines, but a more "natural" back-and-forth exchange of listening and observing female cues. The guide teaches men how to avoid the painful "dead air" that occurs when conversation topics run out. It also provides an insider's translation of the true meaning behind what women say, and explains why women tend to "play games" in their mode of expression. Perhaps even more importantly, this book delineates the "do's" and "don'ts" of conversation with a woman, and outlines exactly how to direct a conversation from beginning to successful end. Davis tells men how to project just the right amount of interest, without appearing desperate or obnoxious. The book, if used properly, often results in the woman actually taking the sexual initiative. By generating interest through intriguing, exciting conversation, a man may actually access a little-known female "erogenous zone" in which mental and physical stimulation are intertwined. The reality is, women have not been begging men for centuries to "talk more" just to be annoying - conversation really does excite them. According to Davis, a man who truly understands this and learns to use it will invariably reap abundant rewards.

This book, if utilized effectively, has the power to significantly improve any man's success with the opposite sex. By fully internalizing the strategies offered up by the female author of this book, a man can actually begin to enjoy conversation, particularly given its predictable "benefits." The author's boldness in disclosing these secrets is matched only by her confidence in the effectiveness of her program. She claims that if a reader does not triple his success with women within 60 days as a result of this guide, she will provide a full refund. This level of self-assurance suggests to us that the author truly feels strongly about her advice. We feel that Rachel Davis' generous - and somewhat risky - disclosure of her private world is likely to benefit men and women alike.



Rachel Davis has focused on the only pickup and dating guide that concentrates on "what to say" and conversation - the biggest stumbling block for most men.